Admissions Online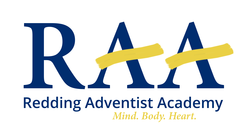 EMPOWERING STUDENTS TO BE THE LIGHT OF JESUS THAT CHANGES THE WORLD
ADMISSIONS ONLINE - NEW STUDENT APPLICATION
Welcome to Redding Adventist Academy and thank you for your interest!
How to Apply
Applying is easy using our

Online Application

.

To receive full consideration for admission, please complete the applicaiton in its entirety. Below are your instructions. We encourage you to print these instructions and follow them. You can print by right clicking and selecting print.
Please note: E

sentials Program (High School):

If you have a high school student and want to enroll your child in our Essentials program, please see office for the application/enrollment packet. This process is handled via paper documents.
To Begin, Create an Account for your Elementary Student:
Are
To begin the Online Application process,

Create an Account

. Place your name, email, telephone number and user name/password and click on

Create an Account

to submit.
Verify Account Link
Once you have created your account, go to your email and click on the verification link that was sent to you. Please note, the verification email could take a few minutes to receive. Also, don't forget to check your junk folder if you don't see it initially.
Log in to Your Newly Created Account
Once you verify your account you will be directed to a log in page. Log into your account and click on

Create A New Student Application

.
Fill in your student's name, date of birth, grade, and click submit.
You can begin filling out your child's application by clicking on your child's name or

Start Application

. You will then have the flexibility to log in and out of your account and access your open application.
Tracking Application Status
After submitting the application, you will be able to track your admissions status online by logging in to your account. There you will be able to print the completed application.
We look forward to reviewing your child's application.